Praber offers mastery in terms of craft, which means a guarantee of reliability and quality for all customers, who enjoy the advantage of using machineries enclosing all the knowledge and expertise regarding both the processes and the solutions, meanwhile investing in an ambitious , modern, dynamic and flexible company.
Praber is a young and curious company, also attentive to the needs and trends that customers urge to implement both with regard to machinery and plants, because the added value of our company lies just in his soul as a manufacturer, whose research and innovation is not confined inside a laboratory or in front of a screen, on the contrary it dwells in the forging companies of customers, with whom Praber boasts relationships based on ongoing dialogue, the real challenge for optimization of offered solutions.
Today Praber is an Italian manufacturer with exclusive brand of forging presses, screw presses and complete plants for metal hot forming (brass, steel and other metal alloys), is also the manufacturer of forging press machinery control panels and automation systems thanks to the acquisition of Atlas Elettrica, which has been acknowledged for a long time now, because of its expertise and specialization in this industry field.
As a further offered service the design of electronic and pneumatic load/unload automation systems equipped with the most advanced technologies, always customized according to the needs and perfectly combinable with any type of machinery.
Moreover Praber provides ejectors and die lubrication systems, even for very heavy loads, it is possible to perform automations by means of anthropomorphic robots.
Praber guarantees qualified assistance with spare and pieces made according to a drawing as well as original and revamped ones warrented through the several sales and withdrawal of used products of all brands.
Praber offers complete solutions, starting from the workpiece to be manufactured Praber team is able to design the whole production line, supporting and basing the offered choices on several case histories making it an essential pre-requisite of reliability and guarantee for investment purposes.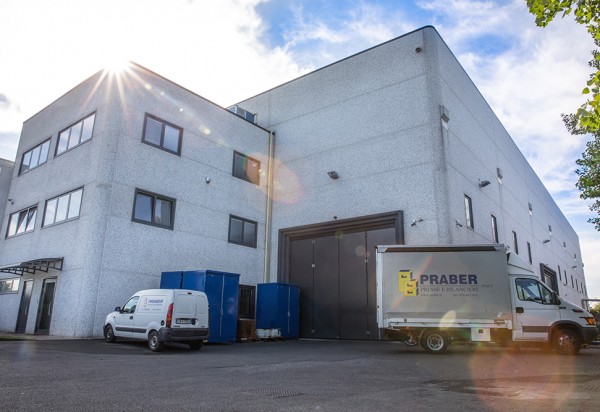 Today as never before the mistake of choosing the unsuited production-related machinery is admitted, thus the selection of the Supplier Partner is a crucial decision that can not be merely focused on the price, but must take into account other factors such as ervice, warranty terms, spare parts availability, reliability and financial strength, qualified staff, quick maintenance intervention and mastery of the field, Praber is capable of satisfying the abovementioned requirements and therefore ensure the expected outcome..
Praber is best expressed through its motto: "Forging the future!", a principle which enhances the company's ability to innovate, to dare and provide original, modern and competitive solutions.